When it comes to finding an indoor activity to do with kids, there are many perks to living in Washington, D.C. With the countless museums and the metro accessibility, not only can you find a place to go, but getting there can be a thrill for your child if you take a train or bus. Here are some of my families favorite spots.
The Smithsonian's National Air and Space Museum
is virtually an unbeatable destination. When you enter the museum, you are immediately transported into exhibits as there are planes and rockets hanging from the ceiling and exhibitions throughout the open main floor. While there's so much to see, there's also so much to do. There is the
"How Things Fly"
designed to teach about the many aspects of air travel through hands-on stations. There are more buttons to push than you can imagine and the stations are engaging for not only the wee ones, but the older kids, too. In this area there's also a real plane where kids can climb into the cockpit to experience what it's like to be a pilot.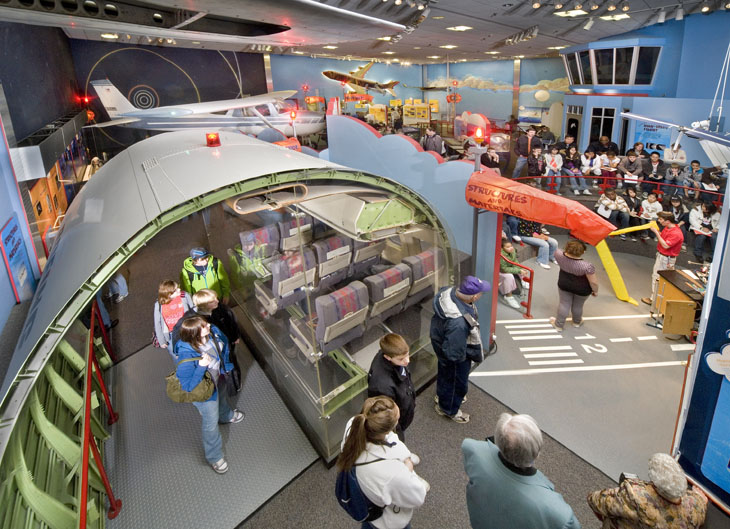 (Air and Space Museum's "How Things Fly," Photo Credit Smithsonian Institution)

For older kids and adults there is a flight simulator area where you can really get the adrenaline pumping depending on how adventurous you're feeling. There's also an IMAX theater that shows a variety of films, some of which are kid friendly and some are for an older set. And if you are ok with fast food, you'll be pleased to know there's a food court in the museum that has McDonald's, Boston Market and a pizzeria.
The
National Building Museum
offers a lot in the way of entertainment. First, there's a huge hall where you can let your little one(s) run free, but more than that, they have activities for families, kid friendly exhibits, a dedicated children's play room and large building blocks for kids to use, along with other rotating family friendly events. In terms of ease of accessibility on a rainy or snowy day, the Museum is across the street from the Judiciary Square metro and only a few blocks from the Gallery Place station.
The
National Portrait Gallery
is one of my families favorite indoor "playgrounds." I've found that it's easy to make a game of looking at the portraits with kids. From counting the number of boys vs. girls to asking kids to find their favorite portraits, you can actually see the art of the museum with young ones. But if that's not what you had in mind and you just need a destination, this is the spot (sorry art lovers who loathe all the wild kids).
(Portrait Gallery Museum. Photo Credit Smithsonian Institution)
The Robert and Arlene Kogod Courtyard (photo above) at this museum is amazing. The glass ceiling is incredible on a clear day and also a rainy one and it's an expansive area where kids can run around without causing any trouble. There is a water feature that is a huge hit with kids. Basically a water feature on the floor that enables kids to run, kick, play and slosh around in less than an inch of water and the feature runs almost the entire length of the atrium so there's room for everyone to explore. Bonus is the cafe adjacent to the atrium where you can score a great lunch and also a mini bottle of wine...or coffee....or water. As for location, it's virtually unbeatable as you are just blocks from the Gallery Place, Metro Center and Judiciary Square metro stations and you're surrounded by the many casual dining options that come with a Gallery Place/Verizon Center location.
The
National Museum of Natural History
requires no
added activities beyond what it has to offer with its exhibitions and discovery stations. This museum has it all in terms of grabbing and keeping the interest of young ones. From the
African Elephant
in the rotunda to the amazing coral reef, it's hard to move children through the museum because there's so much that captures their attention. For those who want a hands-on experience this museum doesn't disappoint. As with some other Smithsonian institutions, there are discovery stations where you can learn more about what you see in exhibitions and often touch various objects. There is also the
Q?rius Discover Room
, ".. a hands-on room featuring real Museum objects and artifacts. During Open Hours, visitors explore activities representing exhibitions and behind-the-scenes research at the Museum. Visitors of all ages can look at fossils, skulls, shells and minerals, use a microscope, try on traditional clothing from around the world, and much more!"
The
National Museum of American History
is an incredible experience as children can take in the magnificent halls of the museum, take a seat on a train car in the America on the Move exhibition, see the
U.S. flag constructed out of LEGO®
(on exhibit through the end of 2015). For kids ages six to twelve, there is also
Spark!Lab
. "Spark!Lab is where museum visitors become inventors. The Lemelson Center for the Study of Invention and Innovation invites children between the ages of 6 and 12 to create, collaborate, explore, test, experiment, and invent. Activities for children and families incorporate traditional science, technology, engineering, and math (STEM) with art, museum, and creativity. Spark!Lab activities are designed around common themes that connect to Museum collections and exhibitions. These themes will change on a regular basis, ensuring that regular visitors have something new to explore."
Another great spot is the
National Museum of the American Indian
. The building itself is gorgeous and something worth seeing in DC, let alone all that the museum has to offer inside.
(National Museum of the American Indian. Photo credit Smithsonian Institution)
Throughout the museum, like others, you may find learning stations or discovery carts where you have a hands-on experience that's relevant to something you will find or learn about during your visit. In addition, one of the incredible aspects of this museum is the
imagiNATIONS Activity Center
. "The interactive, family-friendly imagiNATIONS Activity Center provides visitors of all ages with a multitude of unique learning experiences... Visitors to the center can explore some of these ingenious adaptations through a variety of hands-on activities: Weave a giant basket to learn about the various styles of basketry. Explore different modes of transportation like snowshoes and skateboards. Sit inside a full-sized tipi and learn about the buffalo... Additionally, the activity center offers stories about Native cultures or by Native authors, available for reading in the center's story room. The craft room offers visitors the opportunity to create art projects and take them home..."
Possibly one of the best dining experiences on/around the National Mall is the National Museum of the American Indian's
Mitsitam Cafe
. The Cafe has several different food stations, each representing Native foods from different regions. It's an incredible dining experience offering visitors the opportunity to taste authentic and contemporary foods from various regions.
Bonus...
If you happen to visit one of the museums located around the National Mall on a day that's not too chilly, you can treat the kids to a ride on the
National Carousel
post-museum visit.
(Photo Credit, National Carousel)